It's difficult to write about a Ragnar Relay without writing a whole novel so I won't try to describe everything that happened in minute detail. The 2012 Cape Cod Ragnar Relay was my 6th Ragnar Relay, my 5th as a team captain and my 4th as a runner. Going in, I was a little worried about how I would perform as a runner. After a two month hiatus, I've only been back to regular training for about a month now and I've just been building my mileage gradually with easy runs. Overall, however, the experience was awesome and I ended up running better than I thought I would, thanks in large part to the cooler weather in New England relative to Florida.
Running Betty and I flew up to Providence, RI Thursday morning and met up with runner #5, Devin. We drove about 45 minutes to Raynham, MA and checked into our hotel before making our way to Boston for the team dinner. After an adventure driving the 12 passenger van through crowded Boston streets and tunnels, we arrived at a wonderful Italian restaurant where runner #9, David and his partner Steve treated most of the team to dinner.
After dinner, we all headed to Mike's Pastry where we were wowed by the large Thursday night crowd and I thankfully did not notice that rum cake was available. With plans to meet up at our hotel in the morning, we all parted ways before 10 PM.
Running Betty and I woke up at about 8 the next morning for a Wal-Mart run and the whole team began to assemble at about 9:30.  The gradual assembly of the team on race morning is probably one of my favorite parts of the relay. It's fun to see who is bouncing off the walls excited, who is quietly nervous and who just hasn't has enough coffee to be completely functional. We loaded the vans and headed for the starting line at 10 AM. Once we arrived, we completed the van 1 safety briefing and the decorated the vans.
At noon, it was time to start and first time Ragnarian, Brian L. led us out of the gate. After a quick bathroom break, we all jumped into the van in hot pursuit of the runners. As we drove along the course, it was creepy that we didn't pass any runners. The further we went, the more worried I became. Finally, we arrived at exchange #1 without passing any runners. They had all vanished!
Slightly chagrined at the odd start to the relay, we eventually learned that the entire noon starting group (25 runners) had made a wrong turn just a few hundred meters from the starting line and run 2 miles out of their way. The 6 mile leg turned into a 10 mile leg!
We jumped back into the van and headed back toward the starting line, hoping to give Brian some much needed support. As we began to encounter the runners along the route, they didn't look happy so we rolled down the windows and cranked up the radio. Once we found Brian, we stopped the van and danced for all the runners because we're "Ragnarians" and that's what we do for our fellow runners.
Brian arrived at exchange 1 about 25 minutes late with a smile on his face. His first Ragnar leg in the books, he already had one heck of a story to tell. Robin was off in a flash, so we headed to exchange #2 where she handed of to Kelci and I got dressed for my first leg.
While at exchange 2, we learned that the course had changed. The original exchange #3 was to be at a high school, but it got moved apparently due some shenanigans that the high school administrators did not approve of. That extended Kelci's leg 0.8 miles and knocked my first leg down to 5 miles. Feeling good about the shorter distance, I took the bracelet from Kelci and sprinted 25 meters to a traffic signal.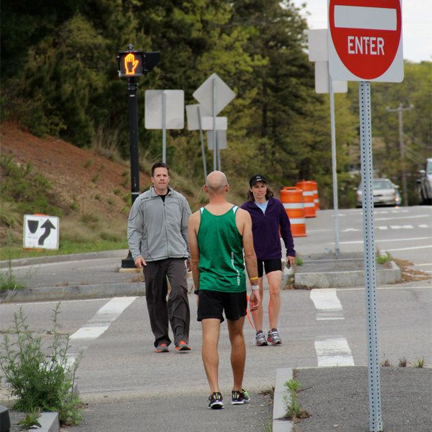 Once through the first traffic light, I started off pretty fast. I thought there were some people trying to "roadkill" me so I took off downhill and nabbed my first road kill about a half mile into the leg. The road curved back uphill to another stoplight where I just missed the signal and had to wait for quite a while. I looked back and saw a guy in a red shirt about a quarter mile behind and impatiently waited for the signal to turn. It did before he reached me and I did my best to put as much distance between us. My last stoplight behind me, I settled into a pretty solid pace heading into historic Plymouth, killing 5 more runners before finally getting caught and passed by red shirt guy within view of the Mayflower and just before the finish of the leg. I charged into exchange #4 ready to hand off the bracelet to Devin, but the chute was empty. Bewildered, I spotted the van heading quickly toward me. Seconds later, Devin popped out and I handed him the  bracelet.
After Devin and runner #6, Anna finished their legs, we handed the reigns off to van #2 and promptly got caught in horrible traffic heading across the bridge to Cape Cod. Local, Robin, steered us to an Italian restaurant where we filled our bellies before heading to exchange #12. In true Clark Griswold style, I parked in the back of the parking lot and pulled out the Christmas lights.
As the sun set, we watched runner #12, Luis take off on his 6.5 mile loop back to the same park he started in. An hour later, he handed off to runner #1, Brian and the madness started all over again. The main difference was that this time, Brian ran his prescribed number of miles and handed off to Robin right at the expected time. Robin traversed the Sagamore bridge and brought the team onto the Cape where she finished her leg with a quarter mile of sand running and handed off to Kelci who waited for her wrapped in a sleeping bag in the cold night air.
I received the slap bracelet for my second leg in a Walgreens parking lot. The nighttime legs are always my favorite and this one didn't disappoint. I tore through the parking lot and spotted another runner behind me with a glance over my shoulder as I maneuvered onto a sidewalk. Not wanting to get killed again, I maintained a healthy pace, but could spot no runners ahead. Without carrots to chase, the leg started out a little on the boring side, but I held onto the pace and my persistence was shortly rewarded with three blinking red lights in the distance. I slowly pulled them in and van #1 pulled alongside on the road, slowing for a few cheers and some cowbell. The extra motivation gave me a little boost and I passed the three runners ahead. The night was peaceful and the natural smells emanating from the woods and creek beds I passed through relaxed me even as I pushed to turn my legs over at a faster rate. By the end of the leg, I had racked up 8 road kills without being passed myself.
Devin also had a short leg, but Anna's leg was a little longer. Her leg headed through some neighborhoods and as we made our way to exchange #18 we noticed some people sitting on lawn chairs at the end of their driving drinking beer and cheering for all the runners as they passed – an awesome way to spend a Friday night, I think.
We were tired when Anna arrived at 24 to end our second stint on the course, so we navigated immediately to exchange #24 where Raffi and I found a quiet spot to pitch our tent and get a few hours of sleep. The rest of the team opted to remain in the van. Following the Del Sol Ragnar Relay in February, Raffi and I invested in some warmer sleeping bags and we were rewarded with actual sleep. It was only two hours, but it was enough to perk me up and I was ready to go when Luis arrived at the exchange to hand off to Brian.
Brian knocked his last leg out with gusto and handed off the Robin. That's where the trouble began. We hopped back into the van and followed the directions to the next exchange. As I was driving and Running Betty had her head buried in the directions. Devin pointed out that we had passed a bunch of vans parked along the roadside. Briefly worried that we had passed the exchange point, we encountered a parking lot down the road that was full of vans. We pulled in and waited for Robin to arrive.
She was late…very late. Eventually, Kelci figured out that we were at the wrong exchange point. The spot 200 yards up the road was in fact the relay exchange 26 and we were waiting at exchange #27. Kelci and Raffi jogged up the road to exchange 26 to meet Robin. Meanwhile, Robin came running into exchange #27. The course had been changed and I did not receive notification. There was no clear sign pointing out the new location of exchange #26 and Robin ran right past it, continuing on to complete Kelci's leg of the relay.
Fortunately, Kelci had her cell phone so I called her, told her to run her leg and we'd wait for her at 27. 25 minutes later, she arrived, slapped my hand (I was already wearing the bracelet) and I took off on my last leg of the relay. I jetted across the road and onto the "rail trail" with the thought that I might be able to break 20 minutes in this 5K leg. I spotted my first potential kill in the distance and glanced down at my Garmin which indicated I was running at sub 6 minute mile pace. I eased back on the pace and passed the woman ahead.
Each time I passed someone, I was able to spot another runner in the distance and that kept me "racing" the whole time. The 6:20 pace was a little too much for my legs, however, so I began to back off before it became a real problem. Each time I encountered a runner, I'd accelerate past them, then back off the pace a little to recover. I passed 8 runners by the time I hit the three mile mark and knowing I was almost done with my final leg, I let it all hang out fore the last tenth of a mile. When I arrived at 3.1 miles, all I was greeted with was a big 7% incline up a bridge. Fortunately, the exchange point was at the top, but Devin was not!
Five minutes later, Kelci arrived with her husband and Devin jogged up the hill behind her. I handed the bracelet to him and headed back to the van where I learned they had all gotten lost. Fortunately, the next two legs went by smoothly and we handed the reigns to van #2 at exchange 30.
We were hungry so we headed to breakfast at Laura & Tony's kitchen – a small spot with a great breakfast buffet. Some of us enjoyed mimosas and others opted for coffee. We relaxed and lingered, happy for a nice place to sit an fill our bellies. Afterward, we headed to Provincetown and killed some time by tagging other vans. We had a couple of beers in the beer garden and van #2 arrived after a couple of hours. As David approached the finish line, a couple of people helped him into his fish costume and he led us across the line.
Though we were a few hours short of actually winning the race, we did take home the "Nom de Plume" award for Best team name. We're all very proud.
Up next for me? The Chicago Ragnar Relay. I've just found out that one of our runners is injured so it looks like I'll be filling in again!